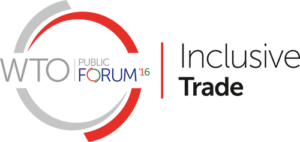 The session "International value chains in agriculture: challenges and opportunities to address gender inequalities" organized by IFPRI with support from PIM took place on 29 September as part of the 2016 WTO Public Forum. 
Speakers included:
Carin Smaller, Advisor on Agriculture and Investment, International Institute for Sustainable Development (IISD) chaired the session.
This session was directly linked to the issue of globalization and inclusiveness, especially regarding the role of women. The session had three main objectives: (1) summarize the research on gender and trade openness with a focus on agricultural value chains, (2) explore domestic reform that allows to grasp opportunities from trade openness for addressing gender inequalities, and (3) provide examples from the private and public sector about successes and failures in South America, Africa, and South Asia.
Both as producers and consumers, women play a critical role in the food system and addressing specific gender challenges is a necessity to achieve an ambitious and inclusive food security agenda. However, both public and private existing governance structures have poorly addressed this issue in the past. In the last three decades, global and regional agricultural markets have become more integrated, leading to the evolution, expansion or creation of many value chains while their impacts on women welfare have been contrasted. This session will review existing and potential impacts of agricultural liberalization on gender inequalities through global and regional lenses: specific examples will be discussed both in terms of public and private governance (regional focus on Latin America, Africa south of the Sahara, and South Asia). Learning from these experiences, session speakers draw conclusions regarding the right policy mix of border policies and domestic gender‑sensitive interventions to guarantee inclusive international agriculture value chains.
Research discussed during the session is led by IFPRI as part of the CGIAR Research Program on Policies, Institutions, and Markets (PIM).
---
A total of 102 sessions took place at the 2016 WTO Public Forum on 27-29 September at the WTO's headquarters in Geneva. Entitled "Inclusive Trade", the Forum focused on how to ensure that trade benefits everyone, with a particular emphasis on enabling women, innovative start-ups and small and medium-sized enterprises (SMEs) to take advantage of the opportunities provided by trade. Find more information about the forum here>>