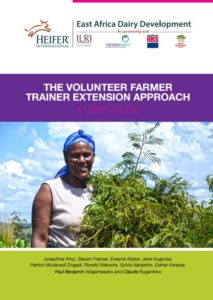 Extension services are delivered in a variety of forms, with the ultimate aim of changing farmers' attitudes towards applying knowledge and practices that increase productivity and income. However, how farmers gain access to knowledge and information on improved practices along the intended value chain is extremely important. An effective approach encourages farmers to change their attitudes and perceptions, which in turn increases knowledge and promotes uptake of agricultural practices, technologies and other innovations. Application of good agricultural practices and use of technologies in production systems increase productivity and farm income. The mode of dissemination can influence the agricultural knowledge and skills that farmers acquire. The success of technology dissemination greatly depends on the effectiveness of the mode of delivery used to reach the clients.
The use of innovative approaches and strategies to increase coverage is therefore, becoming a major concern for all stakeholders involved in agricultural advisory service delivery. In East Africa, several extension approaches have been used in the delivery of extension services. The traditional extension approaches were top-down, commodity-based, non-participatory and instructional, and were structured and operated with the assumption that farmers were largely ignorant and unable to integrate new practices into their farming systems. These approaches tended to produce poor results because farmers felt no sense of ownership over the ideas imposed on them.
This failure resulted in the emergence of approaches that were bottom-up, participatory, and whose main aim was to educate farmers about various options rather than to prescribe solutions. These participatory approaches involved farmers from the problem identification stage to the design of solutions, right up to their production constraints. Although a significant impact was realized from these participatory approaches, productivity, uptake and use of technologies and innovations were relatively low. The East Africa Dairy Development (EADD) Project, a project to improve the livelihoods of dairy farmers in Kenya, Uganda, Rwanda and Tanzania, adopted the Volunteer Farmer Trainer (VFT) extension approach, a form of farmer-to-farmer extension, in 2008 to increase impact. This approach is the subject of this guide.
Citation: Kirui J, Franzel S, Kiptot E, Kugonza J, Ongadi PM, Wabwire R, Nanjekho SW, Karanja EK, Nzigamasabo B, Ruganirwa C. 2016. The Volunteer Farmer-Trainer Extension Approach: A User Guide. Technical Manual. World Agroforestry Centre, Nairobi. http://dx.doi.org/10.5716/TM16068.PDF 
Authors are grateful for support from EADD, the Ministry of Foreign Affairs, Finland, through the FoodAfrica Programme, and from two CGIAR research programs: Policies, Institutions, and Markets, and Forests, Trees, and Agroforestry.
Related blog:  PIM Impact Story: Volunteer farmer trainers change the way we think about extension