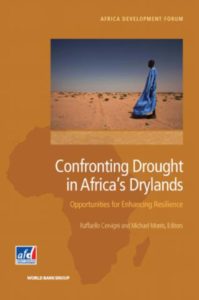 Drylands make up about 43 percent of the region's land surface, account for about 75 percent of the area used for agriculture, and are home to about 50 percent of the population, including many poor. Involving complex interactions among many factors, vulnerability in drylands is rising, jeopardizing the livelihood for millions of people. 
This book provides a synthesis of the study, 'The Economics of Resilience in the Drylands of Africa.' The study was a collaborative effort involving contributors from many organizations, working under the guidance of a team comprised of staff from the World Bank Group (WBG), the United Nations Food and Agriculture Organization (FAO), and the CGIAR Research Program on Policies, Institutions, and Markets (CGIAR-PIM).
 Citation
"Cervigni, Raffaello; Morris, Michael. 2016.
Confronting Drought in Africa's Drylands : Opportunities for Enhancing Resilience
. Washington, DC: World Bank; and Agence Française de Développement. © World Bank. https://openknowledge.worldbank.org/handle/10986/23576 License: CC BY 3.0 IGO."
Collection(s)
Associated content