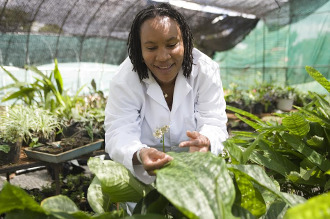 Women contribute important insights in agricultural research. Whether as government researchers, university professors, or senior research managers, their perspectives are essential for addressing the unique and pressing challenges of all farmers, particularly female farmers. Hiring women can also help alleviate staffing shortages in many African agricultural research agencies.
These are a few of many good reasons why African countries should ensure that women are well represented among their agricultural researchers.
The good news is that, according to a recently published article in the Journal of Gender, Agriculture and Food Security by ASTI head Nienke Beintema, many African countries are making progress towards a gender balance in their agricultural research systems.

The number of women researchers rose in both absolute and relative terms between 2008 and 2014—and in 2014, an average of 24 percent of full time equivalent researchers in a sample of 40 African countries were female.
Obviously there is much more progress to be made. An in-depth look at the data reveals that representation varies widely between countries, and women tend to be in less senior positions.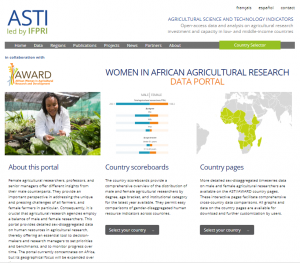 A new portal from ASTI—in partnership with African Women for Agricultural Research and Development (AWARD)—now serves as a single destination to find this data. The Women in African Agricultural Research Data Portal features detailed sex-disaggregated data on human resources in agricultural research, as well as graphic tools for country comparisons and analysis that allow researchers and policy makers to set priorities, establish benchmarks, and monitor progress over time.
What obstacles are women agricultural researchers facing? What can help overcome them? ASTI's gender-specific data provides an illustration, but much more information is needed to answer these questions. Success for African farmers—both male and female—depends on it.
---
Cross-posted with permission from the ASTI website
Featured image: JOMO KENYATTA UNIVERSITY, NAIROBI, KENYA, 7th May 2007: Wariara Kariunki, Senior Lecturer, Faculty of Agriculture, examining plants under study in a sceen house (Photo by Mike Goldwater)
---
Agricultural Science and Technology Indicators (ASTI) provides trusted open-source data on agricultural research systems across the developing world. Led by the International Food Policy Research Institute (IFPRI) within the portfolio of the CGIAR Research Program on Policies, Institutions, and Markets (PIM), ASTI works with a large network of national collaborators to collect, compile, and disseminate information on financial, human, and institutional resources at both country and regional levels across government, higher education, nonprofit, and (where possible) private for-profit agricultural research agencies. ASTI is currently supported by the Bill & Melinda Gates Foundation (BMGF) and PIM. www.asti.cgiar.org