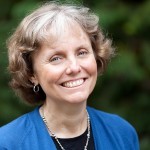 Cheryl Doss, Senior Departmental Lecturer in Development Economics at Oxford Department of International Development (ODID), University of Oxford, and PIM's gender research lead has been elected President of the International Association for Feminist Economics (IAFFE).
IAFFE is a non-profit organisation that seeks to advance feminist inquiry of economic issues and to educate economists and others on feminist points of view on economic issues. The Association has approximately 600 members in 43 countries. While the majority of IAFFE's members are economists, the group also includes scholars in other disciplines, students, activists, and policy-makers.
Dr Doss becomes president-elect in mid-June and will begin her one-year term in 2019.
Cheryl Doss is a development economist whose research focuses on issues related to assets, agriculture and gender with a regional focus on sub-Saharan Africa. Among her research projects, she co-leads the Gender Asset Gap Project, a large-scale effort to collect data and measure individual asset and wealth holdings for men and women in Ecuador, Ghana, and Karnataka, India. This research examines best practices for collecting individual data on assets and also quantifies women's ownership of and control over productive assets. Currently, much of her work focuses on how to understand both joint and individual ownership and decision-making within rural households.
Cheryl Doss works with a range of international organizations on issues including best approaches for collecting sex-disaggregated data, gender and agriculture, intrahousehold resource allocation, and women's asset ownership. In addition to her position with PIM, in recent years, she has also worked with UN Women, the UN Food and Agriculture Organization, the Bill and Melinda Gates Foundation, the World Bank, DFID , the Africa Development Bank, and the UN Foundation on issues of women's asset ownership.
She has published widely in academic journals in economics, agricultural economics, and development studies. See more here
She is currently Course Director for the MPhil in Development Studies at ODID.
---
This post is based on the original announcement on the ODID website.