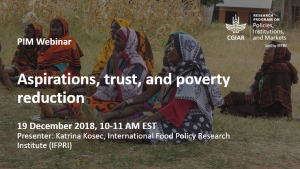 The recording of the final PIM webinar in 2018, "Aspirations, trust, and poverty reduction" conducted by Dr. Katrina Kosec (IFPRI) on December 19 can be found here. Slides and podcast are also available.
About PIM Webinars
The PIM Webinars aim to share findings of research undertaken as part of the CGIAR Research Program on Policies, Institutions, and Markets (PIM), discuss their application, and get feedback and suggestions from participants. Webinars are conducted by PIM researchers in the form of research seminars. Each webinar is a live event consisting of a presentation (30 min) and a facilitated Q&A session (30 min). Recordings and presentations of the webinars are freely available on the PIM website.
If you wish to receive alerts about our future webinars, please subscribe here.
See previous PIM webinars here