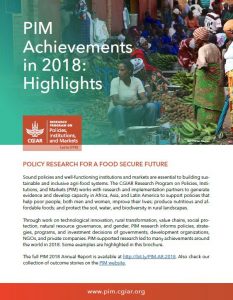 Sound policies and well-functioning institutions and markets are essential to building sustainable and inclusive agri-food systems. The CGIAR Research Program on Policies, Institutions, and Markets (PIM) works with research and implementation partners to generate evidence and develop capacity in Africa, Asia, and Latin America to support policies that help poor people, both men and women, improve their lives; produce nutritious and affordable foods; and protect the soil, water, and biodiversity in rural landscapes.
Through work on technological innovation, rural transformation, value chains, social protection, natural resource governance, and gender, PIM research informs policies, strategies, programs, and investment decisions of governments, development organizations, NGOs, and private companies. PIM-supported research led to many achievements around the world in 2018. Some examples are highlighted in this brochure.

Citation:
CGIAR Research Program on Policies, Institutions, and Markets (PIM). 2019. PIM Achievements in 2018: Highlights. Brochure. Washington, D.C.: International Food Policy Research Institute (IFPRI). http://ebrary.ifpri.org/cdm/ref/collection/p15738coll2/id/133327
Also see:
October 2, 2019
The new study provides the first evidence of a direct association between Bt gene expression in cotton and health benefits for farmers.
September 16, 2019
Overview of five key areas that will be given more emphasis across the PIM research portfolio in 2019-2021.
August 29, 2019
Select recent publications from PIM and partners on sustainable pro-poor policies, institutions, and markets.