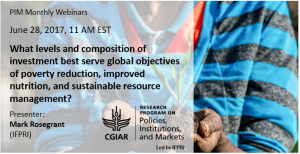 Our second webinar in the May-October 2017 monthly series, conducted by Mark Rosegrant, Director of the Environment and Production Technology Division at the International Food Policy Research Institute, was dedicated to findings from a recent analysis of the impacts of alternative agricultural investments on global objectives of sustainable development.
Watch the webinar recording and join the conversation in the comments section below.
Read the abstract and presenter's bio here. More information about the report discussed in the webinar here.
About PIM webinars
The PIM webinars aim to share findings of PIM's research, discuss their application, and get feedback and suggestions from participants. Webinars are conducted by PIM researchers in the form of research seminars. Each webinar is a live event consisting of a presentation (30 min) and a facilitated Q&A session (30 min).
See the full schedule of PIM webinars for May-November 2017 here. 
Previous PIM Monthly Webinars
Webinar #1: The rise of medium-scale farms in Africa
May 23, 2017. Presenter: Prof. Thomas Jayne (MSU)