Climate change poses a significant global threat to food security and nutrition, largely through its impacts on agricultural production. To help developing countries identify where adaptation measures are most needed, IFPRI conducted a multiyear study to assess the potential impact of climate change on the agriculture sector through 2050, considering the likely landscape of political and economic challenges that policy makers will face.
The study integrated results from climate and economic models, and included detailed biophysical and bioeconomic analyses of Guatemala, Honduras, El Salvador, Nicaragua, and Costa Rica in Central America and Colombia and Peru in the Andean Region of South America. The discussion papers for each country and other supporting information can be found on the IFPRI website.
Maize is the main crop grown in our study's seven countries, occupying 36.3% of total cultivated area in the Central American countries and 18.6% in the Andean countries. The results show that rainfed maize yields will be hardest hit in countries further north in Central America. (Irrigated yields are not as adversely affected as rainfed yields in areas where rain declines due to climate change.)
At the national level, the crop models show that Guatemala and Costa Rica will suffer the largest losses in rainfed maize yields from climate change at almost 17%, followed by Honduras at around 12%. Losses in Columbia and Peru, as well as in El Salvador and Nicaragua, will be more modest, at around 8% each.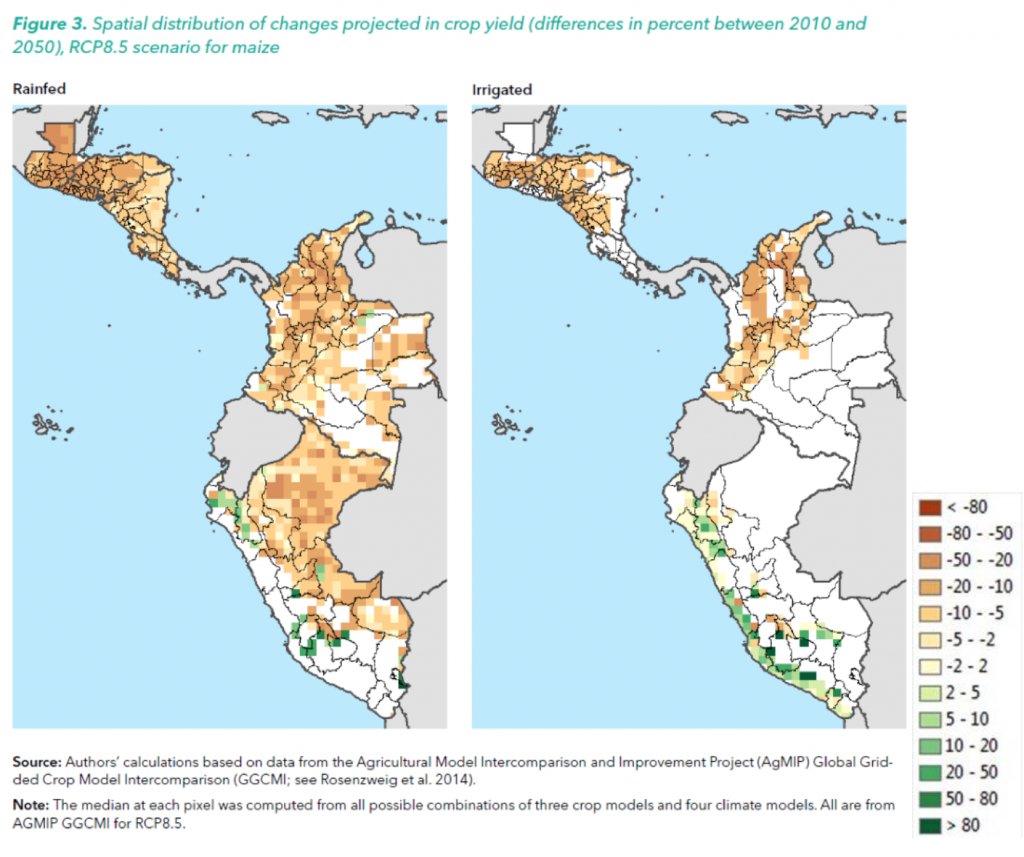 Projections for a number of other key crops are also troubling. National-level wheat and sorghum losses are expected to be similar to those of maize, but barley and especially sugarcane losses are projected to be significantly higher.
The study uses four climate scenarios from the Intergovernmental Panel on Climate Change's CMIP5 (Coupled Model Intercomparison Project Phase 5) using the representative concentration pathway (RCP) 8.5, the highest of the four standard RCPs, which is considered the "business-as-usual" high emissions scenario. Analysis was done at a 50-kilometer resolution for a detailed distribution of the direct climate shocks, and at the country level to show aggregate economic shocks.
Peru is projected by all four global climate models to warm more than Colombia, with both Andean countries warming more in their eastern regions. In Central America, warming tends to be greater in the north; temperature increases in Guatemala are among the two highest countries in all four models, accompanied by those in either Costa Rica or El Salvador. Three of the four models show Central America, particularly in the north, becoming significantly drier and much of the Andean Region becoming wetter.
To better understand the direct impact of climate change, we consolidated output from the AgMIP–GGCMI (Agricultural Model Intercomparison and Improvement Project–Global Gridded Crop Model Intercomparison), an international project that compares results from a number of crop modeling systems used in conjunction with climate models to evaluate the impact of climate change on agriculture.
There are steps that can be taken to mitigate the likely climate impacts on maize and other crops. Among the most frequently proposed measures are improving crop management (making adjustments in planting dates and fertilization rates) and soil and water management (including improvements in storage, irrigation, and use of rain water); using climatic forecasts in agricultural planning; providing innovative insurance schemes; and developing genetically improved or new crop varieties.
The vulnerability of countries, and regions within countries, to climate change depends on their adaptive capacity, which is closely associated with level of development. El Salvador, Guatemala, Honduras, and Nicaragua have weak land tenure systems that hamper investment in sustainable land use and increase vulnerability. El Salvador faces the greatest challenges to adaptation, due to a combination of three factors: weak land tenure; poor access to land and markets due to bad roads; and poor access to government seed and fertilizer subsidies.
While we have focused on maize in this article, coffee and sugarcane represent significant export income for national economies in the region and will also be adversely affected by climate change. Any climate strategy for the agricultural sector must include policies for these crops, as well. Coffee, in particular, presents challenges, since climate change is forcing it to be grown at higher elevations than before.
While one of the most promising adaptation strategies for most crops is the installation of irrigation systems that can protect them when precipitation falls below optimal levels, it will be important to analyze the cost of irrigation alongside all of the other possible solutions and to determine the appropriate public sector role in providing or subsidizing funding for the initial efforts.
Developing a better understanding of the likely impacts of climate change on agricultural yields and production—informed by climate models and economic models—is a critical first step toward identifying strategies to increase agricultural resiliency, which this study has provided. Taking that information and evaluating it alongside the costs of various adaptation strategies will be an important next step.
---
Timothy M. Thomas is a Research Fellow in IFPRI's Environment and Production Technology Division. Ana María Loboguerrero Rodríguez is Head of Global Policy Research of the CGIAR Research Program for Climate Change, Agriculture and Food Security (CCAFS). Ana R. Rios is a Climate Change Senior Specialist with the Inter-American Development Bank (IDB). Deissy Martínez Barón is the Regional Program Coordinator for CCAFS in Latin America. Graciela Magrin is a principal investigator at the Instituto Nacional de Tecnología Agropecuaria in Buenos Aires. Vicente Barros is Professor Emeritus at the University of Buenos Aires. This post  was originally posted on the IFPRI Blog and is based on research that has not yet been peer-reviewed. 
This work was funded by the CGIAR Research Program on Climate Change, Agriculture and Food Security (CCAFS); and the CGIAR Research Program on Policies, Institutions, and Markets (PIM). The Inter-American Development Bank, the Bill and Melinda Gates Foundation, and the International Center for Tropical Agriculture (CIAT) also supported this work.
---
Photo: Maize near Villavicencio, on the border of Colombia's eastern plains, or Llanos. Credit: Neil Palmer (CIAT)
September 23, 2019
Climate change ranks among the most important dynamics shaping livelihoods of young people now and in the future. New IFAD blog on the topic.
September 20, 2019
What do youth have to do with agriculture or agricultural extension? Aren't most young people trying to get out of rural areas and are not interested in agriculture?
August 27, 2019
The industry is a major driver of deforestation, but modeling shows that boosting palm oil yields will help reduce pressure to expand.