Select recent publications from PIM and partners on sustainable pro-poor policies, institutions, and markets
---
Ghana's economic and agricultural transformation: Past performance and future prospects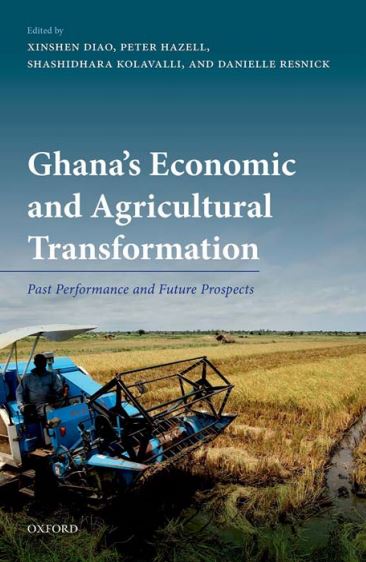 Diao, Xinshen; Hazell, Peter B.R.; Kolavalli, Shashidhara; and Resnick, Danielle (Eds.). 2019. New York, NY: International Food Policy Research Institute (IFPRI) and Oxford University Press. https://doi.org/10.2499/9780198845348 
Urbanization in Ghana has spurred growth in non-farm jobs in rural areas with little impact on agricultural intensification, defined by higher land productivity. Simultaneously, neglect of public investments, low even by African standards, in the non-cocoa sector has stagnated agricultural growth in the country. These are some of the key findings of a new book published by the International Food Policy Research Institute (IFPRI) and Oxford University Press.
"Ghana presents an important case study to understand the challenges and opportunities for Africa's economic transformation," says IFPRI Senior Research Fellow and book co-editor Danielle Resnick.  Read more>>
---
Property rights, intersectionality, and women's empowerment in Nepal
Pradhan, Rajendra; Meinzen-Dick, Ruth; and Theis, Sophie. Journal of Rural Studies. Article in press. First published online on July 19, 2019. https://doi.org/10.1016/j.jrurstud.2019.05.003
Property is widely recognized as an important resource for empowering women. Many development policies worldwide therefore call for strengthening women's rights to property, especially to physical assets such as land and livestock. However, the relationship between property and women's empowerment is more complex than generally assumed because of the overlapping and dynamic nature of property rights.
This paper explores how property rights affect the empowerment of women at different stages of the life cycle and different social locations, ethnicities, household structures, and social classes, using the lens of intersectionality. The findings show that legal categories of property rights in Nepal fail to account for nuanced rights to assets shared within households. Rather than emphasize individual control over assets for women's empowerment, the social relations around property need to be considered to understand which rights women value. The paper makes recommendations for how research and development projects, especially in South Asia, can avoid misinterpreting asset and empowerment data by incorporating nuance around the concepts of property rights over the life cycle. Read the article>>
---
The recent growth boom in developing economies: A structural-change perspective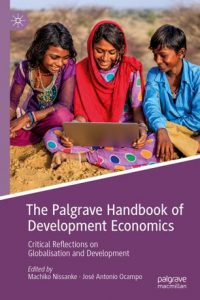 Diao, Xinshen; McMillan, Margaret S.; and Rodrik, Dani. 2019. In "The Palgrave Handbook of Development Economics", eds. Machiko Nissanke and José Antonio Ocampo. Part III: Socio-economic Development Processes: Structural Change, Inequality, Poverty, Institutions and Capabilities, Chapter 9, Pp. 281-334. Cham, Switzerland: Springer. https://doi.org/10.1007/978-3-030-14000-7_9 
Growth has accelerated in a wide range of developing countries over the last couple of decades, resulting in an extraordinary period of convergence with the advanced economies. In this chapter of The Palgrave Handbook of Development Economics, Xinshen Diao, Margaret McMillan, and Dani Rodrik analyze this experience from the lens of structural change—the reallocation of labor from low- to high-productivity sectors. Patterns of structural change differ greatly in the recent growth experience. In contrast to the East Asian experience, none of the recent growth accelerations in Latin America, Africa or South Asia was driven by rapid industrialization. Beyond that, the authors document that recent growth accelerations were based on either rapid within-sector labor productivity growth (Latin America) or growth-increasing structural change (Africa), but rarely both at the same time. The African experience is particularly intriguing, as growth-enhancing structural change appears to have come typically at the expense of declining labor productivity growth in the more modern sectors of the economy. The chapter explains this anomaly by arguing that the forces that promoted structural change in Africa originated on the demand side, through either external transfers or increase in agricultural incomes. In contrast to Asia, structural change was the result of increased demand for goods and services produced in the modern sectors of the economy rather than productivity improvements in these sectors. Access the chapter>>
---
Labor‐saving technologies and structural transformation in northern Ghana
Mueller, Valerie; Masias, Ian; and Vallury, Sechindra. Agricultural Economics. Article in press. First published online on August 01, 2019. https://doi.org/10.1111/agec.12511
Labor‐saving technologies played a fundamental role historically in the structural transformation of agrarian economies. In this paper, Valerie Mueller, Ian Masias, and Sechindra Vallury focus on an emerging labor‐saving trend in Ghana, use of motorized tricycles (MTs), which provide an affordable alternative to manually transferring crops from plots to homestead. The authors used a household survey collected in 2017 in northern Ghana to shed light on how the time savings made available by using MTs may be converted into activities that enhance agricultural productivity and/or diversify the household away from agriculture. They find that MTs adoption has freed the time which households now use to diversify their farming activities into selling processed agricultural goods. Policies aimed to foster the diffusion of MTs elsewhere in Ghana may expedite structural change and economic growth, believe the authors. Read the article>>
September 16, 2019
Overview of five key areas that will be given more emphasis across the PIM research portfolio in 2019-2021.
August 22, 2019
The new book offers key insights into harnessing agriculture's potential in the country
July 31, 2019
Select recent publications from PIM and partners on sustainable pro-poor policies, institutions, and markets