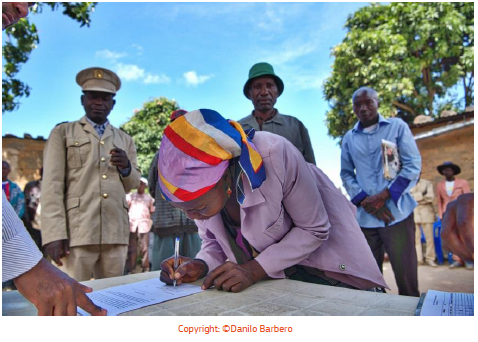 Land is instrumental for human development and poverty alleviation in both forested and agricultural landscapes. However, gender inequalities highly affect the ability to access and control such an important resource.
Join the Infopoint Lunchtime conference organized by the EC's Directorate-General for International Cooperation and Development (DG DEVCO) on February 23 to learn more about the Innovative approaches to gender and land tenure.
Esther Mwangi, our colleague from the Center for International Forestry Research (CIFOR) and member of PIM's research team under Flagship 5: Governance of Natural Resources and Sabine Pallas from the International Land Coalition (ILC) will present their views and findings on how to overcome gendered barriers and improve women's and men's access to, sharing, and control of land.
Introduction 
Philippe Mayaux, Head of Sector, Biodiversity and ecosystem services, DEVCO C2 - Environment, Natural Resources, Water
Presentations
Sabine Pallas, International Land Coalition (ILC), Strategic Communications, Donor Liaison & Gender Justice
Esther Mwangi, Center for International Forestry Research (CIFOR), Principle Scientist and Team Leader at Nairobi Hub
Conference Language: English
Language Q&A session: English & French
Information and web-streaming: www.ec.europa.eu/europeaid/infopoint