This year's World Commons Week (October 6th-12th) organized by The International Association for the Study of the Commons (IASC) strives to celebrate and draw attention to commons research and practice and devote a week toward promoting local-to-global events.
It is the second annual WCW global event, following a successful introduction in October 2018. This year, the organizers are focusing on two primary activities: (1) Local Events; and (2) Global Keynote Webinars. PIM colleague Ruth Meinzen-Dick (IFPRI) will give a Global Keynote Webinar on Africa on October 7.
---
Research has shown that sustainable and equitable management of the commons depends on groups having secure rights over the resources, as well as effective governance arrangements. But secure tenure and institutions to govern the commons are lacking in many areas, and many land tenure reforms that emphasize individual land registration can undermine security of the commons. This seminar will review promising approaches to strengthen collective resource rights and polycentric governance of the commons, with particular application to African contexts.
Speaker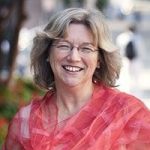 Ruth Meinzen-Dick is a Senior Research Fellow at International Food Policy Research Institute (IFPRI) with over 25 years' experience in transdisciplinary research on the commons, especially land and water. She is the author of over 150 peer-reviewed publications based on this research, and is the recipient of the Elinor Ostrom Award on Collective Governance of the Commons 2019 Senior Scholar award.
Ruth Meinzen-Dick is a co-leader of PIM's Flagship 5: Governance of Natural Resources.
---
---
See this page for more information on the webinar speakers for Europe (October 6th), Africa (October 7th), China (October 8th), North America (October 9th), Asia (October 10th) and Latin America (October 11th).
Photo by Axel Fassio/CIFOR
IASC Webinar Page