When: May 8, 2019, 10-11 AM EST
Presenter: Danielle Resnick, Senior Research Fellow, International Food Policy Research Institute (IFPRI)
Moderator: Frank Place, Director, PIM
---
Presentation Power, politics, and governance in the food system: Applications to Africa (on SlideShare):
---
Growing interest by the development community in stimulating transformation throughout the agri-food system in Africa implies a more complex role for the region's governments. Such roles include not only creating an enabling environment for the private sector but re-orienting public expenditures, resolving coordination failures, and regulating food safety. This webinar will draw on case studies from Ghana, Nigeria, and Zambia to show how electoral incentives, overlapping ministerial mandates, and relations between central and local authorities structure the ability of governments to fulfill these roles in the food system. In doing so, the webinar will summarize research findings relevant to different policy domains of the food system, including fertilizer subsidies, agricultural extension services, land governance, and urban informal food trade.
Presenter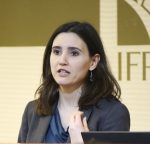 Dr. Danielle Resnick is a Senior Research Fellow at the International Food Policy Research Institute (IFPRI) where she leads PIM cluster 2.3 research on the political economy of policy processes. Between 2010 and 2013, she was a Research Fellow at the United Nations University-World Institute for Development Economics Research (UNU-WIDER) in Helsinki, Finland. She focuses on the political economy of development, decentralization, agricultural policy processes, and urban governance. She is the author of Urban Poverty and Party Populism in African Democracies (Cambridge University Press, 2014) and has co-edited Ghana's Economic and Agricultural Transformation: Past Lessons and Future Prospects (Oxford University Press, 2019), African Youth and the Persistence of Marginalization: Employment, Politics, and Prospects for Change (Routledge, 2015), and Democratic Trajectories in Africa: Unravelling the Impact of Foreign Aid (Oxford University Press, 2013). She currently is a member of the lead expert group of the Global Panel on Agricultural Food Systems and Nutrition (Glopan) and on the editorial boards of the journals Populism and Regional and Federal Studies. She has conducted fieldwork in a number of countries, including Botswana, Burkina Faso, Ghana, Malawi, Nepal, Nigeria, Senegal, and Zambia. She holds a PhD in political science from Cornell University.
About PIM Webinars
The PIM Webinars aim to share findings of research undertaken as part of the CGIAR Research Program on Policies, Institutions, and Markets (PIM), discuss their application, and get feedback and suggestions from participants. Webinars are conducted by PIM researchers in the form of research seminars. Each webinar is a live event consisting of a presentation (30 min) and a facilitated Q&A session (30 min). Recordings and presentations of the webinars are freely available on the PIM website.
See outher PIM webinars here
October 4, 2019
PIM Webinar with Dr. Thomas Jayne, University Foundation Professor of Agricultural, Food, and Resource Economics at Michigan State University
October 1, 2019
Webinar "How tenure reform processes can lead to improved governance of indigenous commons: Experiences from Latin America" with Iliana Monterroso (CIFOR) on October 11.
October 1, 2019
Join the webinar on "Securing the Commons: Tenure and Governance" with Ruth Meinzen-Dick (IFPRI) on October 7, 2019.