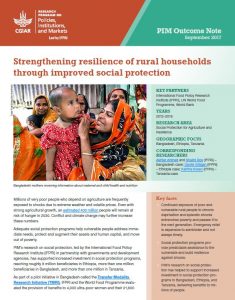 Key facts
Continued exposure of poor and vulnerable rural people to chronic deprivation and episodic shocks entrenches poverty and passes it to the next generation. Emergency relief is expensive to administer and not always timely.
Social protection programs provide predictable assistance to the vulnerable and build resilience against shocks.
PIM's research on social protection has helped to support increased investment in social protection programs in Bangladesh, Ethiopia, and Tanzania, delivering benefits to millions of people.
Millions of very poor people who depend on agriculture are frequently exposed to shocks due to extreme weather and volatile prices. Even with strong agricultural growth, an estimated 400 million people will remain at risk of hunger in 2030. Conflict and climate change may further increase these numbers.
Adequate social protection programs help vulnerable people address immediate needs, protect and augment their assets and human capital, and move out of poverty.
PIM's research on social protection, led by the International Food Policy Research Institute (IFPRI) in partnership with governments and development agencies, has supported increased investment in social protection programs, reaching roughly 8 million beneficiaries in Ethiopia, more than one million beneficiaries in Bangladesh, and more than one million in Tanzania.
Download the note to learn more 
Citation

CGIAR Research Program on Policies, Institutions, and Markets (PIM). 2017. Strengthening resilience of rural households through improved social protection. PIM Outcome Note. Washington, D.C.: International Food Policy Research Institute (IFPRI). http://ebrary.ifpri.org/cdm/ref/collection/p15738coll2/id/131428