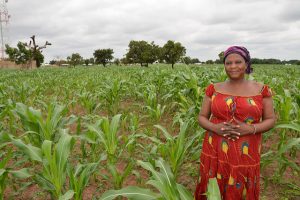 This webinar by Prof. Thomas Jayne (MSU) on May 23, 2017 highlighted the causes and consequences of changing farm size distributions in sub-Saharan Africa.
Watch the webinar recording and join the conversation in the comments section below.
Read the abstract for this presentation and Thomas Jayne's bio here>> 

Also read this article in The Economist that that covers the topic presented by Dr Jayne during the webinar: Africa's real land grab. Never mind foreign interlopers. African urbanites are scooping up more land
About PIM webinars
The PIM webinars aim to share findings of PIM's research, discuss their application, and get feedback and suggestions from participants. Webinars are conducted by PIM researchers in the form of research seminars. Each webinar is a live event consisting of a presentation (30 min) and a facilitated Q&A session (30 min).
---
Other PIM webinars in 2017
The Women's Empowerment in Agriculture Index – What have we learned?
November 17, 2017. Presenters: Hazel Malapit, Senior Research Coordinator, IFPRI, and Cheryl Doss, Senior Departmental Lecturer in Development Economics, Department of International Development, Oxford University.
Strengthening developing-country seed systems and markets. Policy trade-offs, unintended consequences, and operational realities
October 25, 2017. Presenter: David Spielman, Senior Research Fellow, IFPRI
What determines public budgets for agricultural growth in the developing world?
September 26, 2017. Presenter: Tewodaj Mogues, Senior Research Fellow, IFPRI
Community forestry. Where and why has devolution of forest rights contributed to better governance and livelihoods?
August 29, 2017. Presenter: Steven Lawry, Director, Equal Opportunities, Gender, Justice, and Tenure, CIFOR
What levels and composition of investment best serve global objectives of sustainable development?
June 28, 2017. Presenter: Mark Rosegrant, Director of the Environment and Production Technology Division at the International Food Policy Research Institute (IFPRI)